Owner Franco Fantoni welcomes you to Prima Pizzeria
Franco and his family often travel to meet suppliers in Italy in search of the finest wines and ingredients and recipe inspiration. We have been serving traditional Italian food with great success since 1985 which has made us one of the most popular restaurants in the area. The combination of a cosy atmosphere and high standards of food at reasonable prices, make booking highly recommended.
Only a two minute walk from either Ripon Market Place or the Cathedral, Prima Pizzeria is very conveniently located at 33 Kirkgate.
The house "Blackboard Menu" is updated on a regular basis to accommodate for fresh seafood and seasonal game. We provide an Early Bird menu from 4.30pm until 6.30pm and a children's menu is available.
OR WHY DON'T YOU MAKE USE OF OUR VERY POPULAR TAKE AWAY SERVICE?… Most of the dishes are available to carry out !!!
To compliment our menu we stock a wide range of quality wines from Italy and many from around the world.
Sweet lovers are not forgotten with a wide variety of traditional Italian desserts and award winning ice-creams.
We look forward to seeing you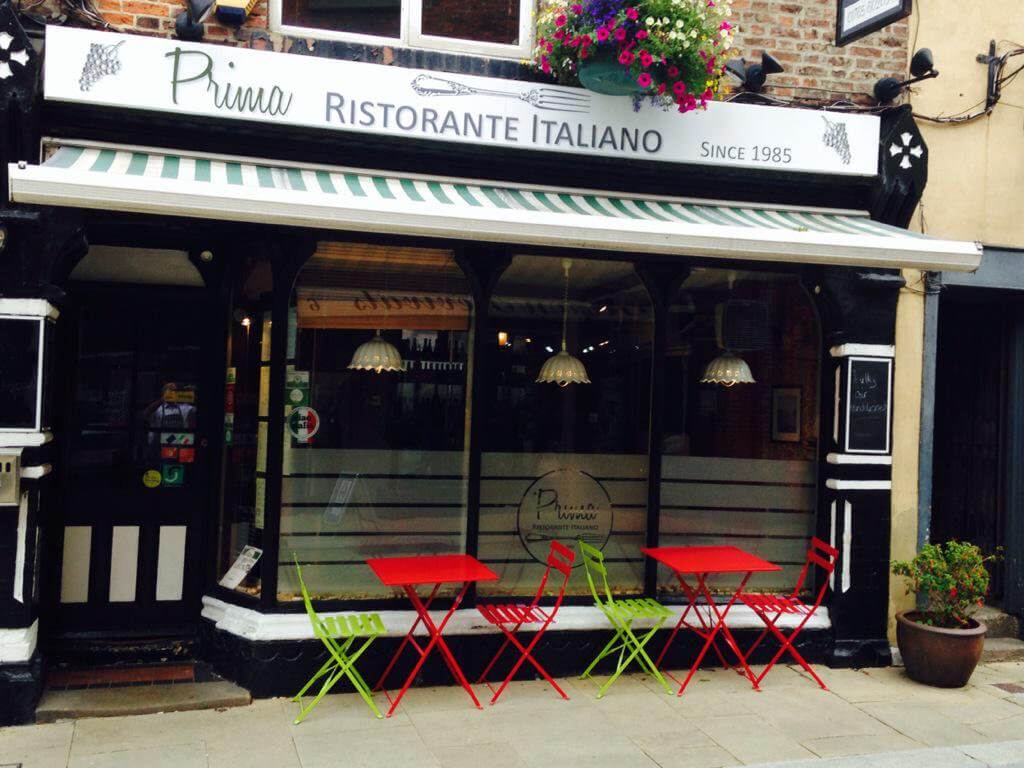 Opening Times
We're open every day from 4.30pm until 10pm (including Boxing Day)  
We offer a daily Early Bird menu from opening until 6.30pm (up to 6pm on Saturdays)  
Please note, we will be closed on Christmas Day and the 1st, 2nd & 3rd of January
MB, August 2018 via Facebook
5 star… Had the most amazing GF pizza and cheesecake ever! The whole experience was fantastic. Food was great service was something else. Thank you so much.
———–
January 2018 via Facebook
Spent new years eve at Primas with family and can honestly say we had a fabulous time! Lovely food, great service and lots of fun..many thanks! We will be returning.
———–
Simon M via TripAdvisor 31 Aug 2018
"Great food, Happy staff"
Michael C 20 Aug via TripAdvisor
"Twice in 4 days"
———–
Fred J 13 Aug 2018″ via TripAdvisor
"Best Italian in the area"
———–
NorthLondoner 01 Sept 2018 Via TripAdvisor
"Very good, proper Italian food"
Sue B, 13 Aug 2018 via Trip Advisor
Great Italian Food – Lovely restaurant, great atmosphere, excellent staff, and superb food. Visited this restaurant 20 years ago, loved it then and love it now. Can't wait to go back. Thank you all.
———–
28 Aug 2017 via Trip Advisor
A LUCKY FIND!
———–
Patrick C 03 Sep 2018 Via TripAdvisor
"Excellent in all respects"