Owner Franco Fantoni welcomes you to Prima Pizzeria
Franco and his family often travel to meet suppliers in Italy in search of the finest wines and ingredients and recipe inspiration. We have been serving traditional Italian food with great success since 1985 which has made us one of the most popular restaurants in the area. The combination of a cosy atmosphere and high standards of food at reasonable prices, make booking highly recommended.
Only a two minute walk from either Ripon Market Place or the Cathedral, Prima Pizzeria is very conveniently located at 33 Kirkgate.
The house "Blackboard Menu" is updated on a regular basis to accommodate for fresh seafood and seasonal game. We provide an Early Bird menu from 4.30pm until 6.30pm and a children's menu is available.
OR WHY DON'T YOU MAKE USE OF OUR VERY POPULAR TAKE AWAY SERVICE?… Most of the dishes are available to carry out !!!
To compliment our menu we stock a wide range of quality wines from Italy and many from around the world.
Sweet lovers are not forgotten with a wide variety of traditional Italian desserts and award winning ice-creams.
We look forward to seeing you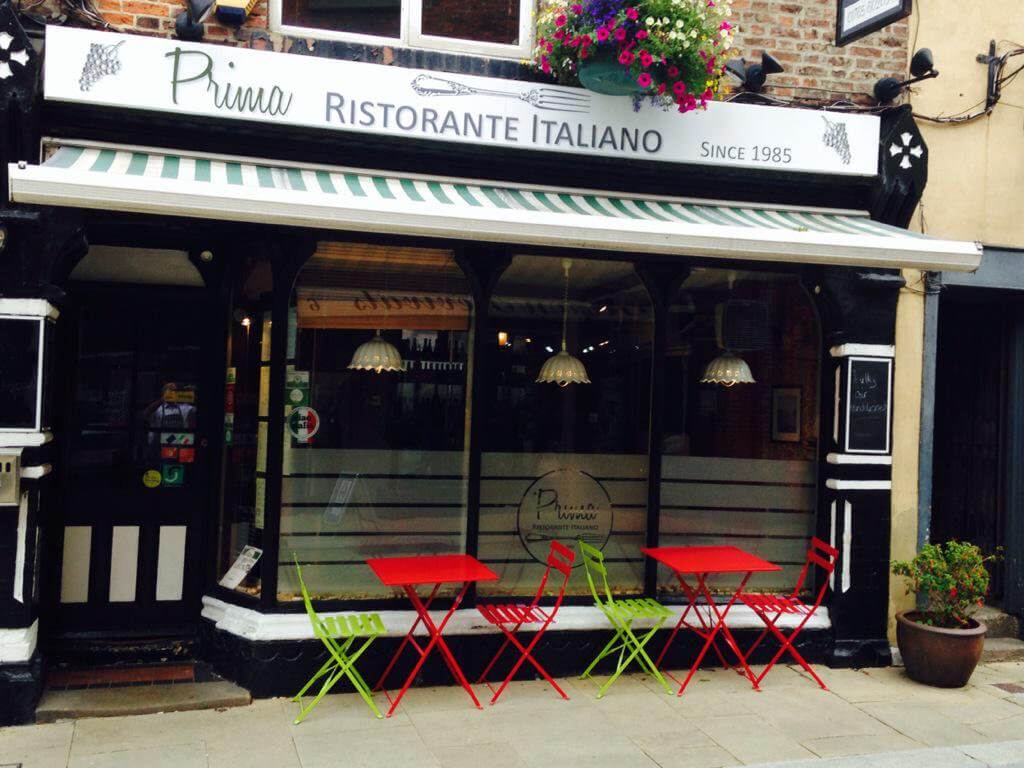 Opening Times
Closed Tuesdays winter time only
Then every day from 4.30pm until 10pm
We offer a daily Early Bird menu from opening until 6.30pm (up to 6pm on Saturdays)
5 star… Had the most amazing GF pizza and cheesecake ever! The whole experience was fantastic. Food was great service was something else. Thank you so much.
MB, August 2018 via Facebook
———–
Spent new years eve at Primas with family and can honestly say we had a fabulous time! Lovely food, great service and lots of fun..many thanks! We will be returning.
January 2018 via Facebook
———–
We went on a Saturday, which I think is one of the busiest evenings of the week for any restaurant. And sure enough the place was packed.
But the friendly staff took us to the bar, till our table was ready and from then on, the ordering, the service, everything was perfect.
The food too, was great. So, this was a fantastic night out
SETEMBER 2017 via Tripadvisor.
Have been coming here for over 25 years and never had a bad meal. Some people might say the food is the same but it is such good quality, who cares. Went at 4.30pm as it opened and by 5pm. they had to turn people away. The staff are always great and attentive. In my opinion Ripons best restaurant so give it a try.
SETEMBER 2017 via Tripadvisor.
———–
*SO GOOD WE WENT BACK TWO DAYS LATER*
We arrived in Ripon hoping to eat at our hotel (Ripon Spa) but found they only offered 'pub' dining now. So a quick tour of the town revealed a number of italian restaurants.. We were drawn to Prima because even though it was a Monday evening in late September it was busy which we took as a good sign. Very welcoming staff and cosy interior, we were served very promptly with thin crispy pizza and salad. All in all a lovely experience. Two days later on our three night stay in Ripon we returned and it was busier but we were found a table after a 5 minute wait (had not booked). Again very friendly staff and clearly this restaurant is a favourite with the locals. I had a very nice seafood pasta dish and my partner had caneloni which was very good. Would recommend.
September 2017 via tripadvisor
Great Italian Food – 
Lovely restaurant, great atmosphere, excellent staff, and superb food. Visited this restaurant 20 years ago, loved it then and love it now. Can't wait to go back. Thank you all.
Sue B, 13 Aug 2018 
via 
Trip Advisor
A LUCKY FIND!
28 Aug 2017 via Trip Advisor
———–
GREAT FOOD – WONDERFUL ATMOSPHERE
A group of 6 friends enjoyed a wonderful meal at Prima's. All courses well presented and delicious. Our starters a good size and the flavours amazing. Our mains (some from the specials board, some from menu) all so tasty and fresh. The desserts, all wonderful (my friend said "the best hot fudge cake ever")The staff are all happy and the atmosphere relaxed and friendly. What a great restaurant. Thank you for such an enjoyable evening
SETEMBER 2017 via Tripadvisor.