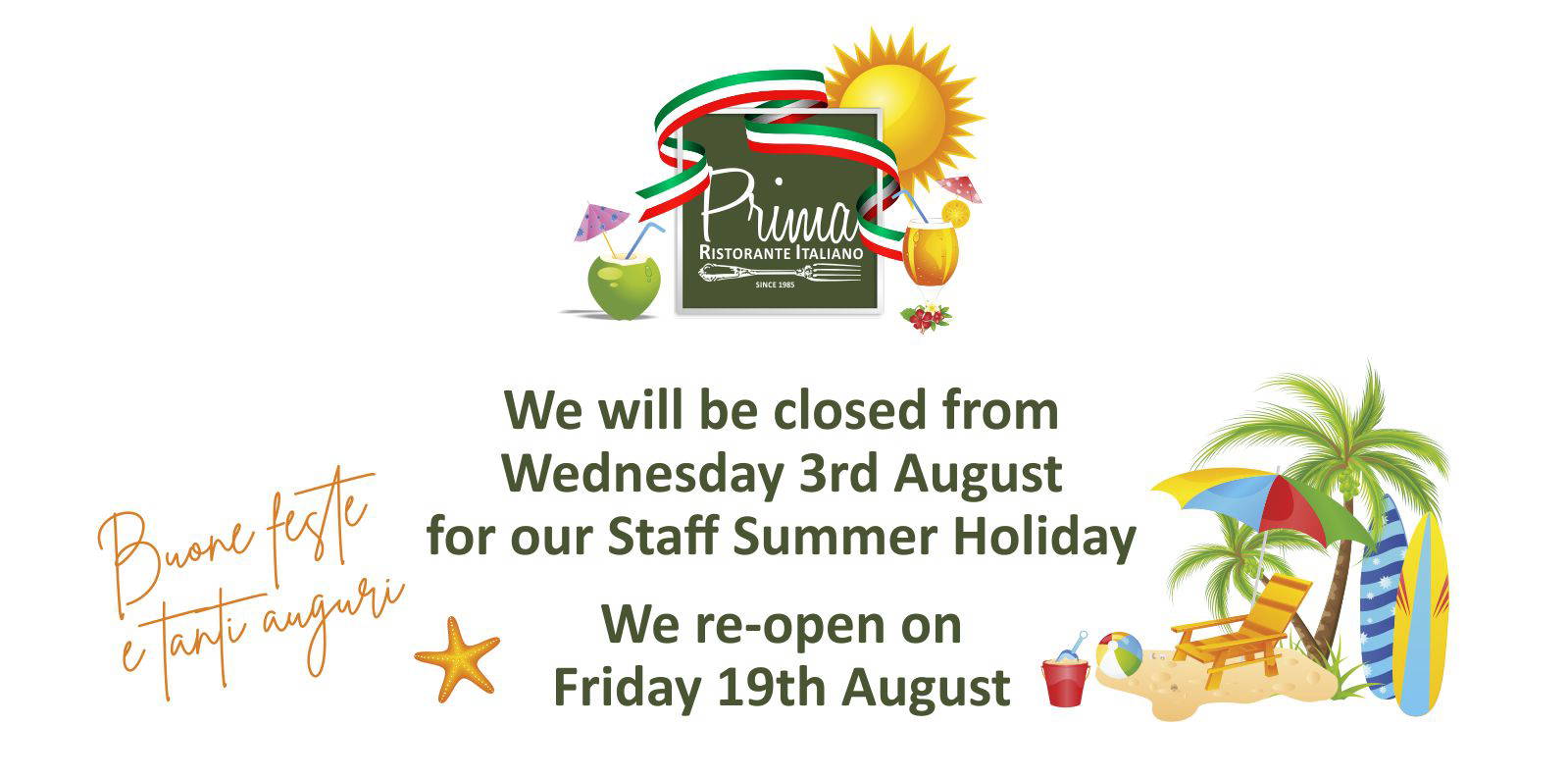 We are open
Mon – Thurs 4.30 – 9.30pm
Fri & Sat 4.30 – 10pm
Sun – Closed
Call us on
01765 602034 to book
A Passion for Food
Pietro loved cooking from an early age and this led him to have his first experience at age 15, working in a professional kitchen in his hometown of Canosa di Puglia in Southern Italy. Since then, it's been his passion. But his greatest food memory is of his mother's Ragu cooking on the stove, the aromas of that rich sauce filled the whole house.
In 2015 Pietro came to Ripon to work at Prima Pizzeria, where he developed his skills and fired his ambition. He started at the bottom and worked his way up very quickly going from Commis to Head Chef in just 3 years. However, in November 2021, an opportunity to fulfil his dream presented itself. After 37 years, the Fantoni family were ready to hand over the reins. Now Pietro and his team are carrying on the tradition of delivering an authentic Italian dining experience in Ripon.
Pietro says "Being a Chef and Restaurateur is the ultimate job for someone who loves food. No two days are the same, trying out new dishes, listening to what your customers say, tweaking recipes and constantly looking to improve. But above all, it's immensely rewarding and great fun".
He loves to travel, experiencing new food and all types of restaurants. It's this along with his Italian heritage which inspires every dish. That passion for food which saw Pietro make the move from Puglia to Yorkshire which is at the heart of what a customer can expect from the kitchen. That's why he makes a point of meeting all his local suppliers personally to ensure the quality of their produce. From locally reared meat and poultry to his favourite Brymor Ice Cream, Pietro ensures standards are maintained. Even the wine needs the seal of approval before it goes on the list…!
Put simply, Prima Pizzeria serves great food, in a cosy atmosphere, with the buzz of a busy restaurant which makes booking highly recommended – especially at weekends. The house "Blackboard Menu" is updated on a regular basis to accommodate for fresh seafood and seasonal game. We have an Early Bird Menu from 4.30pm until 6.30pm and a Children's Menu is available. Prima Pizzeria also has an extensive Take Away Menu if you want the Prima Experience at home.
Located, only a two-minute walk from either Ripon Market Place or Ripon Cathedral, Prima Pizzeria, is at 33 Kirkgate which is a characterful cobbled street packed with small shops.
Pietro and the team are looking forward to welcoming you to Prima Pizzeria 
If you would like to make a reservation…
Call us on
01765 602034
Click to follow us and read our latest reviews on: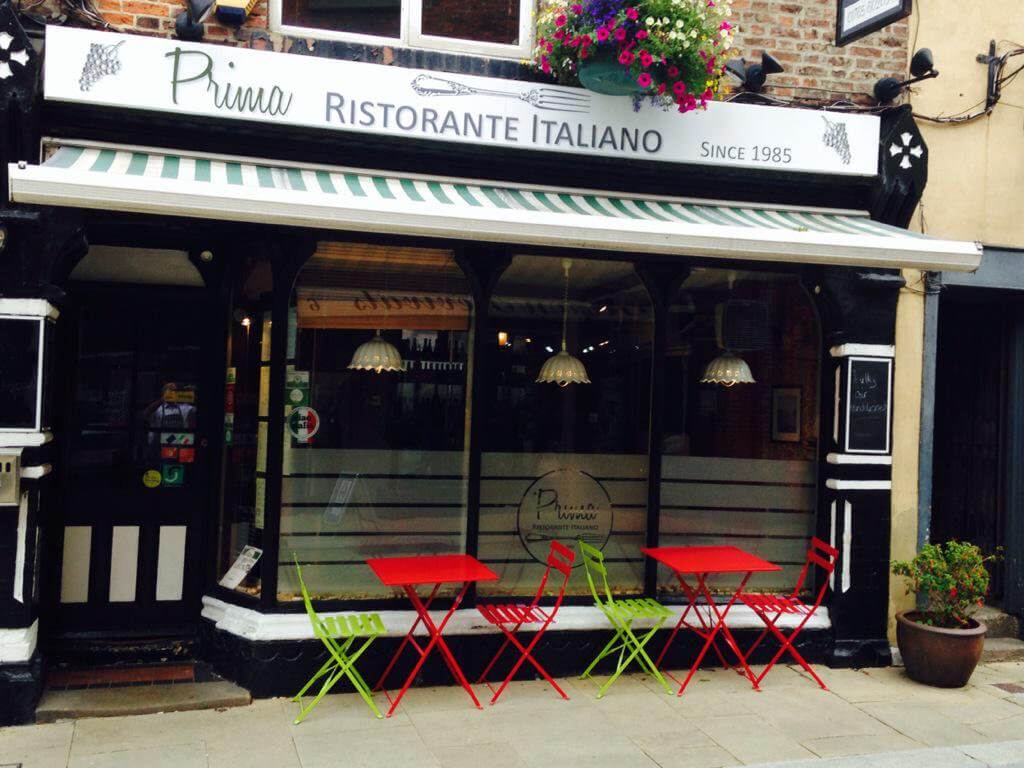 Opening Times
We're open every day except Sunday
Monday – Thursday 4.30pm until 9.30pm
Friday & Saturday 4.30pm until 10pm  
We offer an Early Bird Menu from 4.30pm until 6.30pm Monday – Thursday, and until 6pm Friday – Saturday (Not available on Bank Holiday Weekends)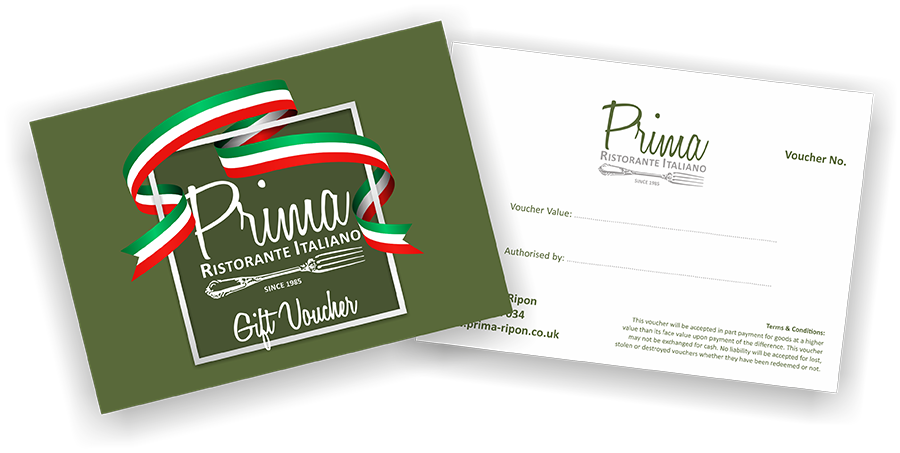 Gift Vouchers Available – Please Ask For Details
What our customers say about us…
Simon Hill
12. June, 2022.
Great atmosphere, tasty food and friendly staff. Highly recommend
Richard Major
8. May, 2022.
Great food
Jayne Portrey-Young
21. April, 2022.
Gorgeous food, friendly staff. Will definitely be back.
Robert Fearnley
14. April, 2022.
Lovely pizzas, great friendly service. Regular stop off for tea when in Ripon. Great early bird menu.
George Flaherty
21. March, 2022.
Not been to Prima for ages, still good food and service, well worth a visit!
Looking for somewhere to eat on a bank holiday weekend in Ripon, noticed the reviews about this place were very good so we called in on the off chance of... read more getting a table for 4.
Staff were excellent and we managed to get a table and were told we had about 90 mins until it was needed which was more than enough time.
We had 4 starters and 4 mains off the early bird menu which was excellent value.
The garlic breads (with and without tomato) were superb and the main courses delightful. Fresh, great ingredients and served quickly and piping hot.
Service was great.
£61 for the food and a round of drinks.
Great place definitely recommend it.

S7868NAdanc


August 28, 2021

'Tis rare for me to comment on cafés and restaurants for Tripadvisor when I am not actually on a trip but near home. However, for once, I make an exception... read more .

Looking in Ripon, North Yorkshire, for an early supper I came across Prima Pizzeria in Kirkgate. What a fortunate surprise - and fortuitous too as I had a 'difficult' companion. As will be seen from my sparse entries, I travel mainly in Central Europe and The Balkans but sometimes into Italy.

I can spot groundless boasts to be 'authentic' but not here; this place would not be out of place in a side street in Lucca or Prato. It looks italian but looks are superficial; food and service not. Il capo was welcoming and the staff attentive without being oppressive. My Mediterranean salad was what it claimed - and generous. My companion devoured her pizza with only one(!) criticism: 'There is too much!'

There was also una piccola delizia: the charming junior waitress (Italian?), endlessly saying Hmm and bobbing like a small bird. Lovely!

We were going to the Harrogate a festival. When I left La Prima, I felt I should be en route to a minor opera house to hear Puccini. All this in Ripon would you believe !?!? Go and give it a try.

Dog-On-Free-Range


August 17, 2021

I was down in Ripon with my husband, and we went here for our evening meal, as we saw online they did Gluten Free food too. It was absolutely brilliant... read more from the minute we walked in. Really nice set up, very welcoming, staff were very friendly and helpful. Food was delicious, just lovely, house wine was really good, I will definitely go there again, if I get the chance to visit Ripon again xx

EricaLN


April 3, 2022